Purple Loosestrife is a prohibited noxious species.
According to Alberta Invasive Species Council's website, "Prohibited noxious species must be eradicated by landowners. They are non-native with currently restricted or local distribution in Alberta that present risks of spreading and causing significant economic or ecological impact. They are also non-native species not currently established in Alberta but that occur in neighboring jurisdictions, cause significant economic or ecological impact in those jurisdictions, and are well adapted to Alberta conditions."  Purple Loosestrife is listed as a Prohibited Noxious species, dated Aug 27, 2017, that must be managed under the Weed Control Act.
Purple Loosestrife is a wetland perennial that forms dense brush-like stands.  It spreads mainly by seed (2.5 million per plant) but also spreads by underground horizontal stems.
Perennial weeds grow from root stalks year after year.  Perennial weeds spread by seeds and roots, and therefore the entire plant must be destroyed.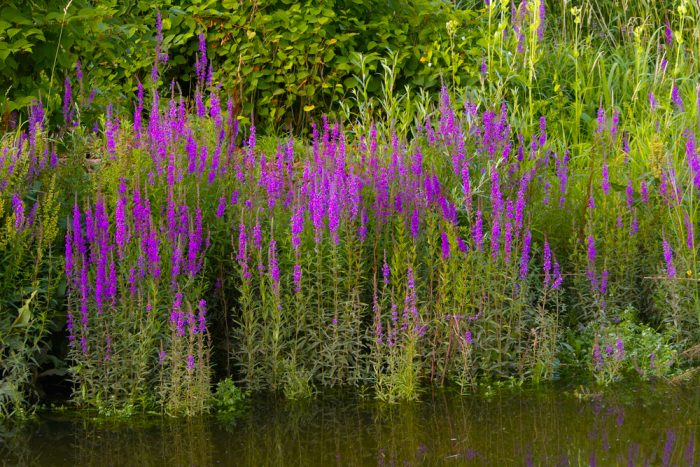 Classification:  Noxious Weed
Recognizable features:
Stem:  Square, woody, several stems per plant, up to 2.5 meter tall
Leaves:  Attached directly to stem, smooth margins
Flowers:  Numerous, pink to purple, 6 wrinkled petals, attached directly to stem in a dense spike
Green Oasis offers a variety of weed control services to help you get rid of those pesky weeds including 3 lawn care packages.
Contact your local office to learn more:
Calgary:                                                                Red Deer:
Tel:  403-206-9900                                             Tel:   403-358-3339
Email: CALGARY@GREENOASIS.CA               Email: REDDEER@GREENOASIS.CA
Information compliments of Agricultural Industry, AAA Fieldmen, Environment, Health & Safety Handbook.
For more information on Purple Loosestrife, check out this fact sheet issued by the Alberta Invasive Species Council at www.abinvasives.ca – Purple Loosestrife Fact Sheet.