Creeping Bellflower (also known as Campanula rapunculoides) is a perennial weed that can reach up to 1 meter in height.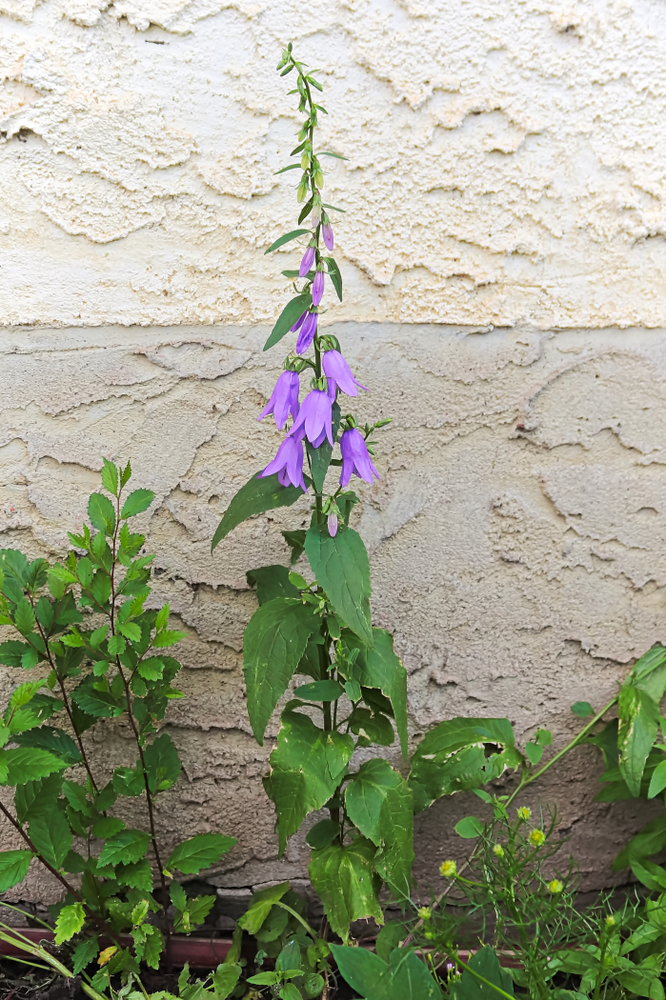 Perennial weeds grow from root stalks year after year. Perennial weeds spread by seeds and roots, and therefore the entire plant must be destroyed.
It is sometimes confused with the Bluebell/Harebell which is a similar species. To tell them apart, the bell-shaped flowers of the Bluebell/Harebell are smaller plus if you look along its stems you will find linear leaves, less than 1 cm wide.
Classification: Noxious Weed
Recognizable features:
Key Traits:
Bell-shaped bluish/purple flowers
Multiple heart-shaped leaves
Widely spreading
Stem: Long, unbranched, up to 1 meter tall, color mix of red and purple
Leaves:  Alternate, 3 to 7 cm in length.
Lower leaves: "long-stalked and heart-shaped with coarsely toothed margins" (Source: Government of Alberta)
Upper leaves: "sessile and lance-shaped with some hairs on the lower surface" (Source: Government of Alberta)
Flowers:  Light purple – blue, petals. Inflorescence is usually curved, giving a 1-sided look. Flower composition: 5 united sepals and 5 united petals.
Green Oasis offers a variety of weed control services to help you get rid of pesky weeds.
Contact your local office to learn more:
Calgary:                                                                Red Deer:
Tel:  403-206-9900                                             Tel:   403-358-3339
Email: CALGARY@GREENOASIS.CA               Email: REDDEER@GREENOASIS.CA
Information compliments of:
Government of Alberta, Creeping Bellflower Information Sheet